| | |
| --- | --- |
| Grid Iron Playoff Challenge | |
Grid Iron Playoff Challenge is an iPad app for managing a fantasy football league during the NFL playoffs.

The app offers a unique playoff format for a fantasy football league. It is based on a few simple rules:
- 1. There is no draft. Each owner can select any player they choose.
- 2. A player from each of the 12 NFL playoff teams must be represented in each
roster/line-up for week 1.
- 3. Each owner must fill their roster/line-up based on the league roster formation.
- 4. A players points is multiplied by the number of weeks the player is in a roster/line-up.
- 5. When a player's NFL team loses, their roster position must be filled by a player of the
same position from one of the remaining playoff teams.




Available in version 2.3:
- Manage 1 to 5 leagues
- Publish weekly results via email to team owners
- Custom league scoring rules

Coming soon:
- Online team management for submitting weekly roster/line ups.
- Online league publishing

Grid Iron Playoff Challenge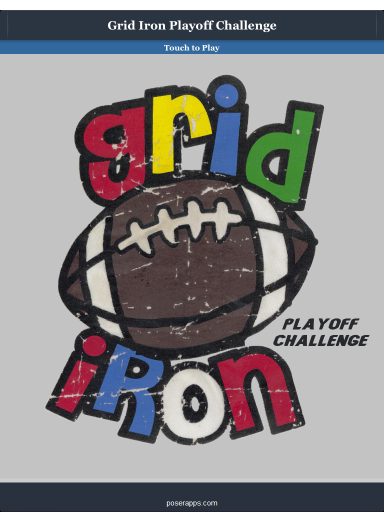 -
Email
me if you have any requests or questions.